By Steve Pellerin on October 22, 2020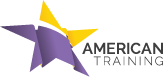 In late March, as the rest of the country was dealing with the effects of COVID-19, a perhaps little known industry was dramatically impacted. That month Gov. Governor Charlie Baker issued an order to shutter day programs across the state, forcing tens of thousands of youth and adults with autism, acquired brain injuries and intellectual and developmental disabilities to stay home.
Providers had to act quickly to figure out how to deliver innovative programming — virtually — to a population of people who normally require support to maintain routines of daily living, secure employment or pursue meaningful activities as members of their community.
Like most providers, American Training, which serves more than 400 people with intellectual disabilities, autism spectrum disorders, physical challenges and acquired brain injuries, in a very short period of time reinvented its programming to offer a full array of virtual services.
The program quickly adapted and has been using video chatting, Zoom, Skype, email or the old fashioned telephone to connect for consultations, telehealth visits, employment counseling and other services.
The organization also created a connector Facebook page, posting a daily schedule of activities and events from fitness classes to charades as well as instructional videos on different topics like cooking and crafts.
Read more via the Eagle Tribune >>